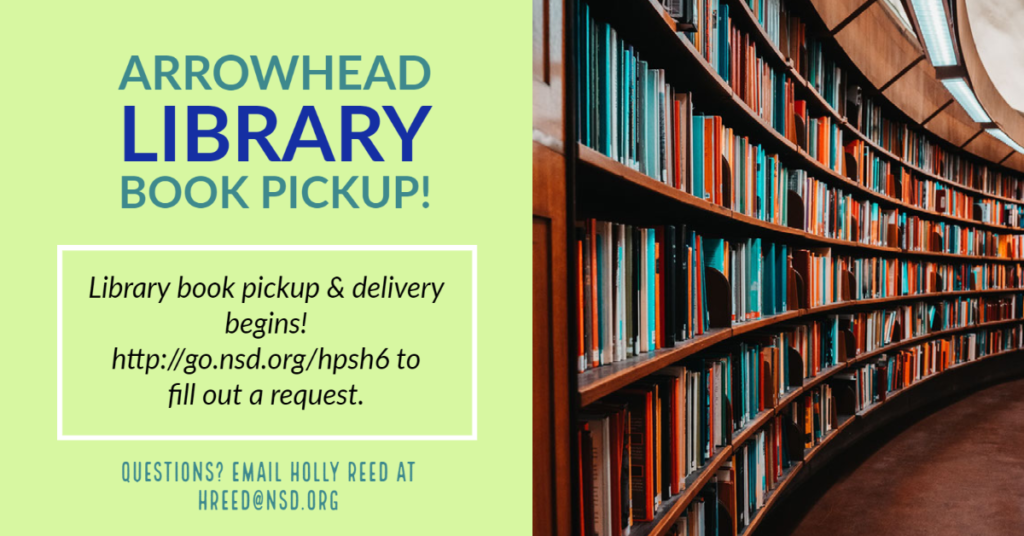 The Arrowhead Elementary Library is now doing book pickup!
Request by Monday, 9/28 to receive a book the week of 10/6.
Go to http://go.nsd.org/hpsh6 to fill out a request.
Questions? Contact Holly Reed at hreed@nsd.org.
The Books Are Coming!
Northshore Learns 3.0 Library book delivery begins TUESDAY, October 6th! Books will be delivered by bus from the Arrowhead Library to the following locations every Tuesday:
Stop 1: 11:10 am Juanita Dr @ 165th (Greenlief Apt)
Stop 2: 11:45 am NE 165th @ 79th PL NE
Stop 3: 12:10 pm NE 170TH st @ NE 169th PL (Quinault)
Stop 4: 12:35 pm NE 175th @ 73rd AVE NE (Trailwalk)
School Curbside (for students not on a bus route) 11:05 am – 12:30 pm
The first two weeks, students will receive a SURPRISE BAG of up to 5 books. Starting Week 3, students will be able to choose specific titles or types of book to be delivered. Books are quarantined for a week when they are returned, so students might have up to 10 books checked out at one time.
PLEASE LET US KNOW WHERE YOU WILL PICK UP YOUR BOOKS! Fill out this form: http://go.nsd.org/hpsh6
There will be a new form every week.
Questions?  Ask Mrs. Reed, AH Librarian:  hreed@nsd.org