Art Docent Program at Arrowhead Elementary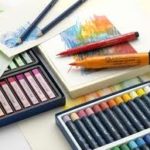 Share your passion for art and become an art docent in your child's classroom!
Being an Art Docent is such a fun way to be in the classroom and get creative! Don't worry if you are not an art expert! Training materials and ideas are available. We would like to have more than one docent per teacher, so if you feel that you have a few hours a month to teach art in your child's class, please contact us.
Signup:
Contact ArtDocent@ptaarrowhead.com or:
Sign up in your child's classroom on curriculum night
Training:
2021-22 training dates to be announced soon.
Art Docent Resources:
Educational Resources from the National Gallery of Art
Instructions on Borrowing National Gallery of Art Educational Resources:
https://learningresources.nga.gov/Requesting_NGA_Programs.pdf